Home At Last…
Woohoo!  We're baaaack!  I'm sorry to keep you all waiting… I know you've been just dying to hear all about it :p  I've had a lot of lost time to make up for I guess
Plus, I kind of got used to living at home again with "Super Nanny", and got used to only cooking two meals a week. I kind of forgot about all the dinners, shopping for dinners, feeding babies, washing, cleaning, working that form part of my life.  So, I've been a little bit slack while we all settle back into normal life.
———————————————————————————————————————
Saturday 9th April 2011: The last week had gone so slowly.  To only have a week to go until we were allowed back into our house was exciting and daunting at the same time.  I knew a lot of people were going to be there, and at the last minute I found out that it was going to be on the news too – eek!  I was worried that people would hate us… I had heard a lot of people who weren't affected saying they had "survivor guilt".  And now I had it bad too.  It was hard to be ecstatic for us on the one hand, that all of our problems were solved and we got to go home… but on the other hand, we KNOW how hard it is to lose everything and not have a snowflake's chance in hell of getting it back. I felt (and still feel) horrible for all the people, our neighbours and friends, who are still struggling, who are still homeless.  So how could I not feel guilty that we had escaped relatively unscathed? I was a bit of a nervous wreck the week before thinking the worst (old habits die hard), that we'd have lines of angry flood victims at our door harrassing us and hating us, spraying hateful graffiti messages on our house.  (I have a wild imagination which serves me well for work, but not in the real world, I guess – LOL!)
It was so surreal to wake up and know that this was the last morning we'd be out of our home.  We were going home.  TODAY!  I could hardly believe it.  It seemed like it had all happened so fast – the last three months now felt like a week.  Even now, I ask Marty if he could believe we lived at my Dad's for THREE MONTHS?  No, he says.  It feels like we went to stay for a long weekend or something.
The morning was going so fast and I was so unorganised… I'd been avoiding the packing up, even though I knew I had to, so I was racing around trying to figure out what we'd need for our first night at home as well as pack up all the stuff we'd collected over the last three months. I hadn't realised how much there was – agh!!  And, of course, with eight of us to get ready and showered… absolute bedlam!
I asked Marty to go down to the bottle shop in the morning to buy Lucas the most expensive bottle of Scotch he could find.  And then, just as we were meant to be leaving I looked at it.  Maker's Mark!!! Maker's Mark is BOURBON!!!  Aaaaagh!!! So, another trip to the bottle-o to get most expensive bottle of SCOTCH (yes Marty, SCOTCH), trying to keep Josh clean and Lola from puking on herself between feeds… And then the dress I had bought for her was miles too big so a last minute wardrobe change had to be fished out of the packed bags and ironed… What a morning that was – LOL!
And then… the trip over there.  I was so nervous! It was like the first time, before we even knew this was happening for us.  I was excited, nervous, stressed out that we'd be late, imagining all these people staring at me… I couldn't get my hair to sit right – I hadn't done it for three months, and it definitely wasn't behaving… I have a habit of tapping my leg (and getting cranky at slow drivers) when I'm nervous  and I think I nearly tapped a hole right through my leg (and perhaps got cranky at a few leisurely drivers) on the way over there.
And then there was a traffic jam on Milton Road.  Bollocks.
Needless to say, we were late for our own homecoming.  I swear I'd be late to my own funeral, I just can't help it.
———————————————————————————————————————
So, we FINALLY arrived at Lucas' place and had a quick drink and chat with his wife, Larissa, and his son Bill.  Then it was time to go.  I didn't really know what to expect… I thought a whole heap of people would be waiting out the back and leap out and scream "Surprise!!" or something.  We were told we'd be shown where to park when we got there… Getting so excited now… LOTS of butterflies in the tummy!!
When we drove around the bend nearing our house, I welled up.  We were finally going home!! And then I saw two lines of people, one line either side of the street.  All the people who had helped us… with the rebuilding, with the clean up, with the pain.  I was trying not to show my emotions, I'd kept them in check for so long now. But I couldn't help it.  It was lovely.
We were guided up through the people, while they cheered and clapped, and we both cried. (It was funny – out of habit I just went to bypass them and walk straight in the front door – LOL!)  I stopped and hugged our neighbours, our friends and family, the people who had been there for us through thick and thin. Josh thought he was in seventh heaven – a roadblock and all these people here at his house clapping at him! The news camera walked along in front of us – it was quite overwhelming… You know when you're kind of not really there?
———————————————————————————————————————
I almost walked right past Lucas at the end of the line… When I saw him, I gave him a hug and then he took us through the gate and handed us the keys.  (Which I couldn't get to work because my hands were shaking so much!)  They had even tied a ribbon around the front door!  And then… click… and…
O… M… G…
You cannot be serious!  This is NOT our house!  Get out of town!  (I can't think of any other exclamations I can make, but you get the picture.) It was AMAZING!
For years, I have drooled over my Real Living magazines, display home brochures, and Mater Prize Home tickets wishing that my home would be like that.  And now it was.  Truly, it was like a display home, like brand new… You'd never even know that it was a thirty year old house! I was (and still am) blown away by how beautiful it is.  And so BIG!!  I never knew how big and un-poky our little house could look!  I tell you, a bit of botox and a facelift, a new wardrobe, and the old girl came up a million dollars.
We went through each room and took it all in.  Josh was beside himself – he was so excited by his room!  There were some toys there for him, and you could just tell he was tickled pink.  He was racing around the house looking in all the rooms and oohing and aahing.  I don't think he could believe it was our house either!  The bathroom of my dreams… and the kitchen!! I loved our "old" new kitchen, but this one takes the cake! Seriously, it is gorgeous, and perfect, and wonderful.  Being home again and seeing it like this made everything that had happened seem like a distant memory.
We then invited everyone through, had some photos, were interviewed by the journalist, did the speeches, had a sausage sizzle, and a grand old time.  It was truly wonderful.  My heart still feels happy when I think of that day.  It was a weird feeling for it to be such a treat to be home, but so so amazing.  I never want to leave again.
———————————————————————————————————————
So, without further ado and rambling on my part… may I present to you our new (and very much improved) home!  Before and afters so you get the full effect and see it from our perspective, as the last time I saw our place it was an empty shell
From outside – BEFORE:
And AFTER (a bit of an improvement in itself don't you think?):
Dining/Living/Kitchen – BEFORE: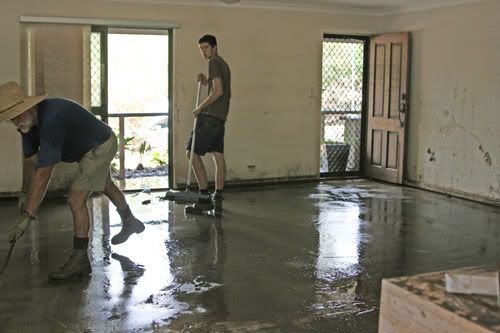 And AFTER: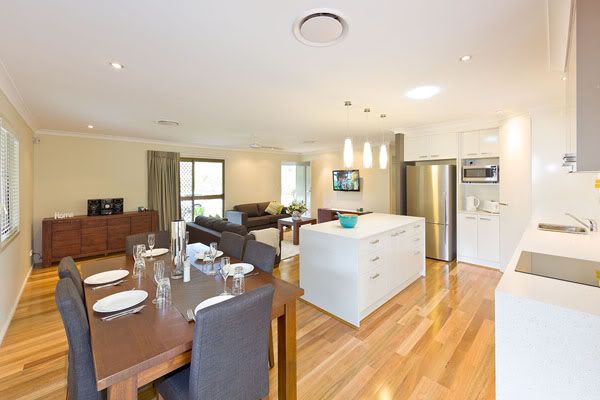 Living Room – BEFORE (points if you can spot the baby :p):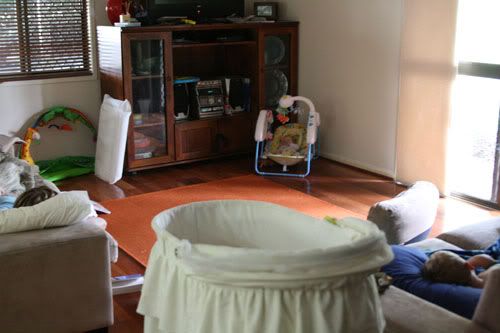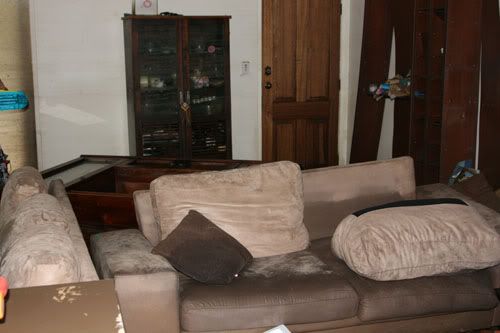 And AFTER: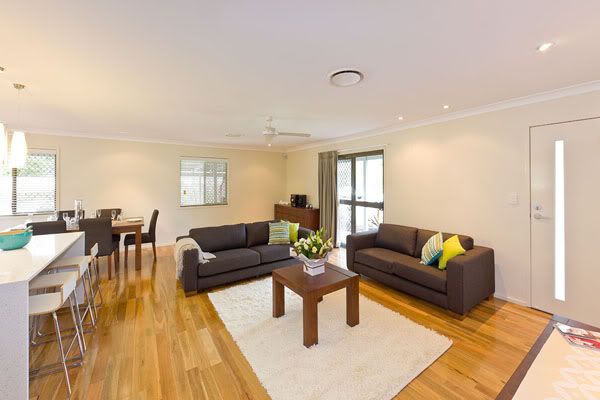 Bathroom/Toilet – BEFORE: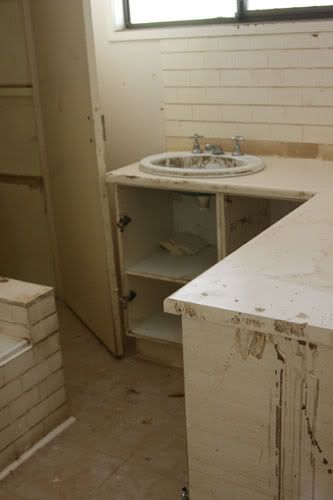 And AFTER: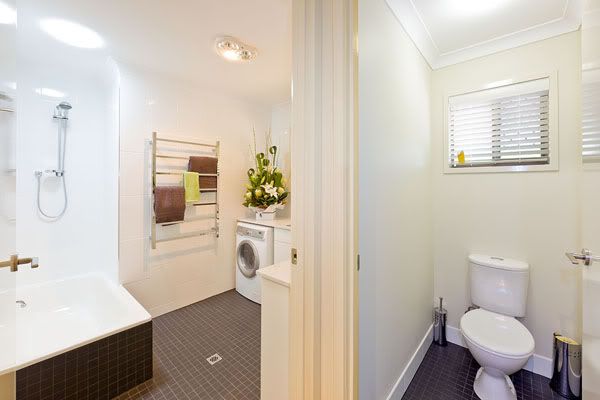 Hallway – the wall there on the right used to be our laundry – BEFORE: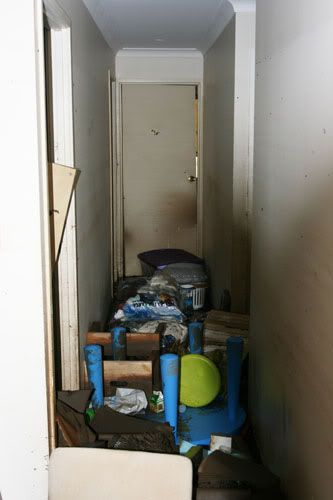 And AFTER – the laundry is now my office, so the kids can have their own rooms – yay!!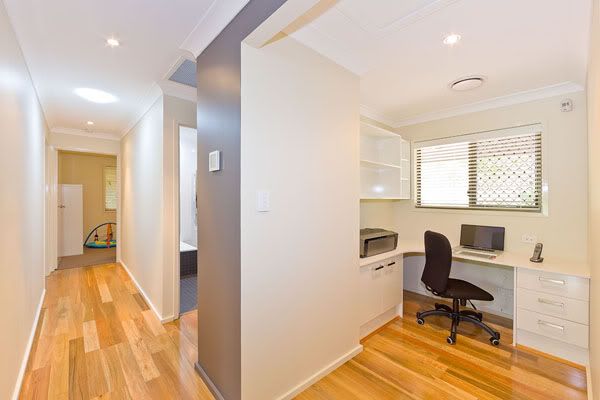 Josh's Room – BEFORE (this was taken on my phone when we were evacuating, it wasn't always so trashy looking LOL):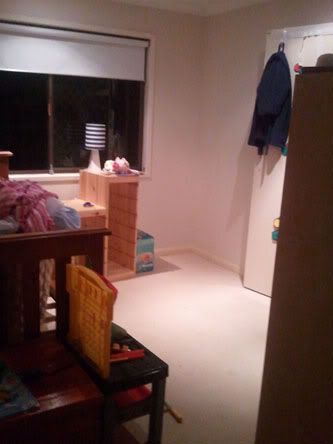 And AFTER: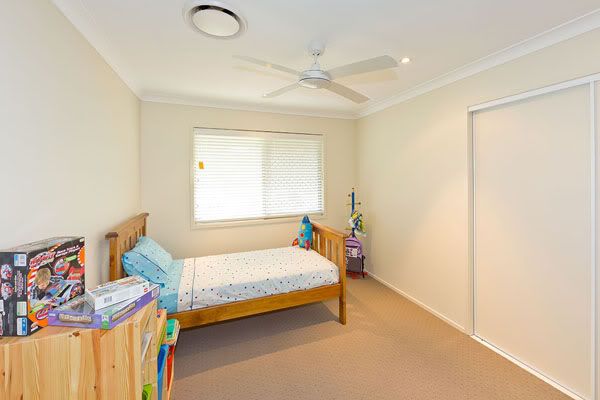 Pretty amazing huh?  I can't thank all the people involved enough for everything they did to make our house our home again.  The fact that a group of kind hearted individuals, charities and business owners came together to do this for us is truly heartwarming, and will never be forgotten by us.  Or anyone else who has been following our story, I'm sure.
———————————————————————————————————————
It was magical to wake up the next morning in our own bed.  In the quiet of our suburb that we had grown to love.  The birds chirping.  The sun shining.  I woke up, looked around and started crying again.  It just felt so RIGHT to be home. This is where we belong.  We went through the house again and took everything in again… Maybe to check that it was really real.  Plus there was still so much to be discovered.  It was almost like when we first bought the house, and were so excited to finally have a place to call our own.
———————————————————————————————————————
We've been home six weeks now, and it's still just as wonderful.  Sure, there was an adjustment phase at first… After the initial buzz wore off, we were both a bit homesick for my Dad's place, believe it or not.  It's hard to spend so much time somewhere, be surrounded by people and love and not get attached to it.  I kind of felt a bit lost for a week or two, finding my feet.  Trying to pick up where we'd left off, trying to get the kids into some type of routine.  We'd all shared a bed for three months, so there were some tough habits to break.  Josh has adjusted pretty well, but Lola still sleeps with us. I'd have moments where I'd get really sad for our old house, and all we've lost.  Sad that WE didn't get to do this to the house ourselves by our own choice.  I'd discover more things were lost and get really teary and angry.  And I felt a bit lonely too.  I missed having someone to talk to any time of the day.
But that's the reality of something like this… I don't think you ever truly forget.  And there are still bound to be moments like that and I have to allow myself to have them.  But they have passed for the most part. Now, I'm just really enjoying being home.  I'm enjoying cleaning and all that boring stuff that used to be the bane of my existence.  I love washing.  I love vacuuming.  I love picking up after the cyclone that is Josh.  I love grocery shopping.  I love cooking.  I love organising. I love taking photos again. I've been enjoying just being a Mum to these two crazy kids and making up for some of the time we've lost…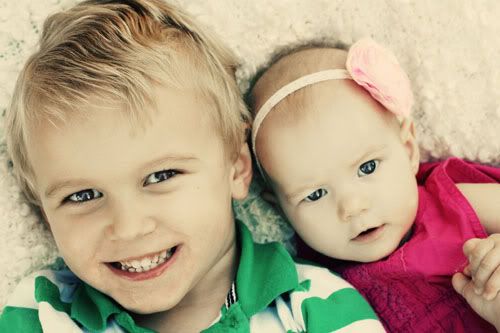 When I first started writing about our experience with the flood on my blog, it was purely a cathartic exercise, nothing more and nothing less.  I really needed to just get it all out of my head, and in a way I wanted to always remember it.  So that when I'm feeling down about breaking a nail or something ridiculous, I can look back and remember that there really are worse things that can happen.  And I wanted to give people an insight into what it's really like to go through something like that.  I have had the unique opportunity to share my experience, something that a lot of people will never experience in their lifetime.
But what I got from it was so much more.  I never expected the outpouring of love and support that we have received.  All of your messages, comments, emails… they really have meant the world not only to me, but my whole family.  It has made it so much easier to get through this knowing that I had people to share my journey with, who would open their hearts and make us feel loved, even though we'd never met.  I am so lucky to be a part of such a wonderful community, both online and in real life.
Thank you.